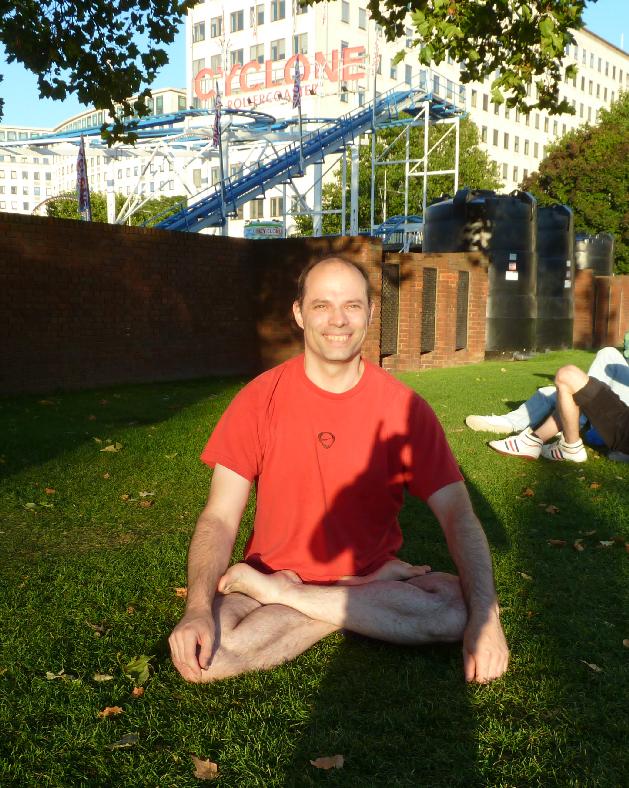 Why?|What?|When?|Equipment|Location|Pictures
Muscle Hacking
Give your body the flexibility treatment. Stretching, strength, yoga, massage. Cool techniques to "hack" your muscles into new ranges of motion.
---
Rate me on facebook or send an appreciative tweet to @GunstickULM
---




Why?|What?|When?|Equipment|Location|Pictures

Why?
This is an initiative created after the success at the 2011 haxogreen camp organized by the local hackerspace syn2cat.

The hacker individual is not only composed of a head. And the body is not only a means of transport for the head. Discover your whole body and get moving. The benefit will be that you will not get back pain from sitting all day long at the computer. But also for the sportively active people, bringing some variation into the exercise routine can be very beneficial.



Why?|What?|When?|Equipment|Location|Pictures

What?
Very losely based on yoga and other training methods this is a general mobilization to get stonger and more flexible. Using a vast collection of stretching and strengthening exercises, adding some massage if needed, you will be able to improve your range of motion.

No previous knowledge is needed but can come in handy to assist other fellow hackers in their first steps. I will try to adapt to each individual's skills, so even experienced yogis and acrobats are welcome.



Why?|What?|When?|Equipment|Location|Pictures

When?
every wednesday evening. Check calendar for time.
every sunday at the time specified in the calendar below.

These dates may be canceled because of vacations. Please check your mailbox or watch the calendar. Mails will be sent to cc so if you want to keep your address secret, create yourself a specific address.

Calendar is hosted on google. You can get the iCal link here

Best is to follow me on facebook, send me a tweet, or ask me to mail you for every meeting.



Why?|What?|When?|Equipment|Location|Pictures

Equipment
comfy clothing where you can move freely
a yoga mat would really be good. I have a couple spare yoga mats. A good yoga met should not be stretchy, quite thin and non-slip.
A towel, you always should know where your towel is!
Your body
on sunny weather: Park Merl (google maps), (openstreetmap). Yes the location is at 5m exactly there. No need to reserve.